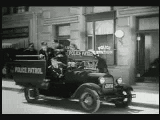 "WAXHAW, NC (FOX 46) – A Waxhaw police officer has been charged after his 2-year-old son accidentally shot his mother, officials said.
Officer Jeremy Ferguson is charged with failing to store a firearm to protect a minor– a misdemeanor violation.
The shooting happened about 6:45 p.m. Wednesday, Jan. 4 at the officer's home along Bigham Road in Waxhaw.
According to the Union County Sheriff's Office, Officer Ferguson's 2-year-old son found his off-duty gun and fired a shot. The bullet hit Ferguson's wife, but she is expected to be okay.
Waxhaw Police Chief Mike Eiss said officer Jeremy Ferguson has been placed on administrative leave with pay while the department holds an internal investigation. He faces a fine or community service if found guilty.
The rest here:http://www.fox46charlotte.com/home/227521767-story?platform=hootsuite
But the day before the shooting this guy could decide whether or not to take your life
The day before the shooting this guy could decide who to arrest or not
Just one hour before the shooting this guy had default hero status because he wore the very same gun
What is wrong with this picture?