FromAmmo.com
"There's no two ways about it: The United States of America and its 50 state governments love putting people in prison.
The U.S. has both the highest number of prisoners and the highest per capita incarceration rate in the modern world at 655 adults per 100,000. (It's worth noting that China's incarceration statistics are dubious, and they execute far more people than the United States. Indeed, the so-called People's Republic executes more people annually than the rest of the world combined.)  Still, that's more than 2.2 million Americans in state and federal prisons as well as county jails.
On top of those currently serving time, 4.7 million Americans were on parole in 2016, or about one in 56. These numbers do not include people on probation, which raises the number to one in 35. Nor does it include all of the Americans who have been arrested at one time or another, which is over 70 million – more than the population of France.
For firearm owners in particular, the growth in this "prison-industrial complex" is troubling because felons are forbidden from owning firearms and ammunition under the 1968 Gun Control Act. As the number of laws has grown and the cultural shift for police has gone from a focus on keeping the peace to enforcing the law, more and more Americans are being stripped of their 2nd Amendment rights (not to mention other civil rights like voting – as of 2017, 6.1 million Americans cannot vote because of their criminal records). All told, eight percent of all Americans cannot own firearms because of a felony conviction.
For American society as a whole, the prison-industrial complex has created a perverse incentive structure. Bad laws drive out respect for good laws because there are just so many laws (not to mention rules, regulations, and other prohibitions used by federal prosecutors to pin crimes on just about anyone). How did we get here?
History of Incarceration in the U.S.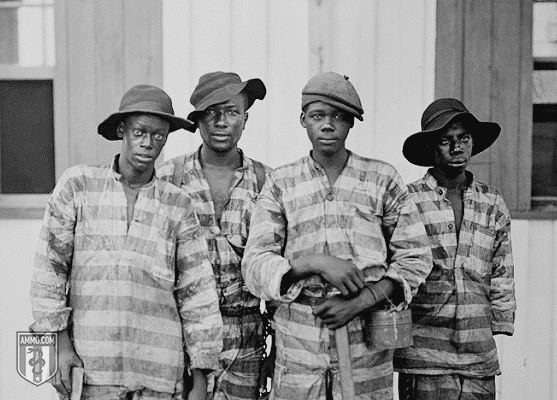 United States law is, of course, based on English common law. Thus, no history of incarceration in the United States can start without first discussing the history of incarceration in the Kingdom of England and later the United Kingdom of Great Britain.
The prevailing notion of where crime came from in the old country and the colonies was idleness. Punishments often involved sending criminals to workhouses, which were quite distinct from the prisons we know today. Rehabilitation and reform weren't strong currents in the English and later British penal system until the 1700s. Reformers sought to improve the criminal and to make him not want to offend.
Another historical fact worth noting is that incarceration is a relatively recent innovation in punishment. Historically, criminals were punished by shaming, corporal punishment, mutilation, exile and death. The purpose was generally not to make the criminal better, but to deter him from offending again while simultaneously providing the community with some awareness of his crimes for the purpose of allowing them to take measures to protect themselves (for example, branding a "B" on the forehead of a burglar). Where criminals were incarcerated, it was generally a temporary measure prior to trial or post-trial punishment, not a punishment in and of itself.
Remember, a significant portion of early American settlers were convict laborers. This convict labor was not incarcerated, but rather freely mingled with the general population. For the safety of the non-criminal elements, they had to be quickly and easily identified. However, the early American colonies were in no position to expend resources to house, feed and clothe criminals who were not providing productive labor – which is why incarceration made about as much sense as cutting off a criminal's hand. Only four types of criminals were prohibited from being shipped across the ocean from England: murderers, rapists, burglars, and witches.
Prison became the primary means of punishment for felonies in the years leading up to the American Revolution. Two systems emerged: One where prisoners were incarcerated alone and another where they were incarcerated in groups. For what it's worth, most prisons were in the North. Throughout the South, crime was largely viewed as a northern problem. Rather than prison, the Antebellum South relied heavily on extra-judicial violence and honor culture to keep their crime rates low."
The rest of the article is here: https://ammo.com/articles/prison-industrial-complex-disarming-america